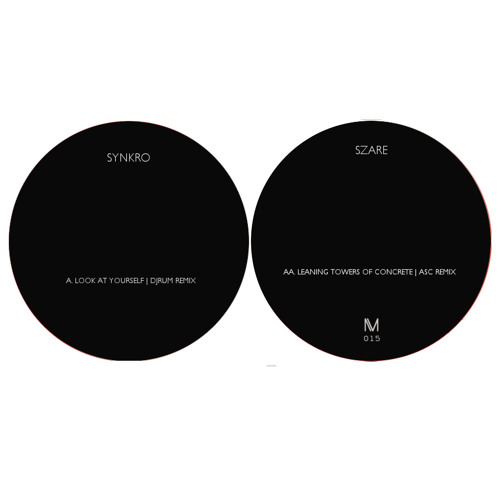 A few weeks back I heard a Djrum remix of the Synkro classic 'Look at Yourself' in the 2nd Drop Fabriclive promo mix, this was big news to me as Look at Yourself was the first track I ever heard (and loved) by Synkro and as anyone who knows me can tell you, I've been well into Djrum's music for a good few months now.
We're only teased with a 4 minute clip on the Mindset labels soundcloud page but apparently the tracks gonna be over 11 minutes long, which leaves me with high hopes considering the taster alone is crammed full of ideas including a beautiful string section and an eerie sample that couldn't fit more perfectly with the mood of the track.
The other side is an ASC remix of the track 'Leaning Towers of Concrete' by Szare, which shows us what happens when ASC leaves his comfort zone to dabble with genres aside from the ambient drum and bass he's known for. The release is scheduled for September and comes on what sounds like a pretty cool black and red marbled vinyl.
Djrum's soundcloud: https://soundcloud.com/djrum
ASC's soundcloud: https://soundcloud.com/auxiliarylabel
Mindset's online store: http://www.surus.co.uk/mindset-records/
Peter